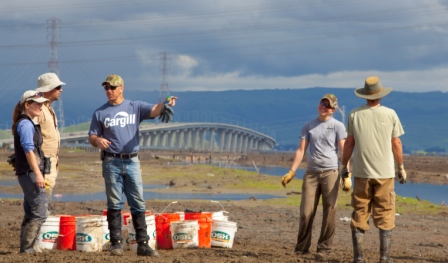 Faces of the Restoration: Pat Mapelli



Pat Mapelli is a Real Property Manager for Cargill. In his work for the salt-making company, he was a key participant 10 years ago in facilitating the birth and successful infancy of the South Bay Salt Pond Restoration Project. He was responsible for making sure Cargill lands met certain standards before they could be transferred to state and federal land managers. He and others at Cargill worked for the US Fish and Wildlife Service's Don Edwards San Francisco Bay National Wildlife Refuge to install early infrastructure necessary for operating Alviso ponds for wildlife. And he worked with Restoration Project managers, including then-Refuge Manager Clyde Morris and Alviso ponds manager Eric Mruz [now Refuge Manager], to pass along his knowledge and experience keeping levees and other pond infrastructure maintained in the face of harsh winds, strong waves, and goopy Bay muds. "They have been a tremendous help to the Refuge over the years, and we would not be where we are today without Cargill's help," Eric Mruz says. Along with sitting on the Project's Stakeholder Forum, Pat also is a board member of the San Francisco Bay Trail.

Tell me about those early days, before we developed our restoration plan, when you were helping the Project transition management of the ponds to support wildlife.
After the 2003 acquisition, I remember having discussions with Clyde and Eric, telling them, you are in the land management business now. Prior to 2003, for the majority of the lands that they own, the salt company was maintaining them. They didn't have to maintain levees. It was a little bit of an eye-opener for them.
In March of 2003, the transfer occurred. Then, the Fish and Wildlife Service contracted with us for the ISP [Interim Stewardship Plan for operating the newly acquired ponds for wildlife until a plan was in place].
Clyde came to me and my predecessor, Bob Douglass, and said, we are smart enough to know we are not smart enough to do this work, can you help?
It takes the experience and knowledge of working with these small little footprints, the soft conditions of Bay mud, the species buffers, the adverse weather conditions, the winds, the public access... it really is a three-dimensional chess game to work in these conditions. Although it's not salt-making any more, the work is the work.
We contracted with the Resources Legacy Fund to provide construction management services on behalf of the US Fish and Wildlife Service to install the infrastructure down in Alviso. Salt-making ponds take in the salt from the Bay, but never discharge. They needed to add additional intake and outlet structures to allow for the circulation of bay water until final restoration plans had been developed.
We paid for the modeling and the permitting process, a very costly and time consuming process. Once the permits were in place, we embarked on the first phase, at Ponds A1-A8. We installed eight new water control structures. I had two different contractors on board at the same time because we had eight weeks to meet the permit window. Fortunately, Clyde was extremely supportive. He said, whatever you need, let us know, because we need to get this done. We basically were at lightning pace.
Then, we did the second phase at Ponds A9-17. Phase 1 was easy by comparison. We were unable to start until after clapper rail breeding season, which ended in September. So it meant we were working right through the winter out on those levees. It was slippery like grease. Because the levee has a convex slope, if you are in the wrong place, gravity takes over and there's no stopping. Getting the equipment there -- the cranes and dozers...if we moved things when it was wet, we had to think outside the box. We actually had to move some things via helicopter. It was probably the wettest winter we've had in a while!
Overall, for the two plans, we finished on time, under budget. RLF was extremely pleased with how their money was spent.
How did you help pass along the knowledge?
For Fish and Wildlife, we provided the training on how to operate the new infrastructure.
It was like taking a drink from a firehose -- there was a lot to absorb at once. We ended up putting together a manual for them on levee maintenance and operation, infrastructure operation and maintenance, what to expect in certain geographic areas. We spent time walking in the field with these issues. The transition was pretty smooth.
Even to this day, we continue to be a sounding board or resource if things pop up, because they do. It's a harsh environment, so things pop up. Once in a while, we get the phone call. We show up, and give our two cents, or give resources. When the Refuge breached pond A6 [add year], we were the last ones to maintain the levees there, and could talk about what to expect, how the breach could affect nearby levees. That's what we can bring to the table.
I am fortunate that Cargill allows me to do what I'm able to do. I have a personal passion for this, and I also have corporate backing to do it. It wouldn't happen if it was a publicly held company.
Is there a particular event or story that comes to mind for you from that time?
The Island Ponds breach in 2006.
Because they were islands, there was no flood concern, so it seemed relatively straightforward. The idea was, all we have to do is breach them. But it was not so easy. First, how to drive there? And second, how to get the equipment there? There was nothing you could rent from any rental yard west of the Mississippi.
The contractor ended up assembling amphibious equipment at our Redwood City plant site. It took three semi-truckloads to assemble this piece of equipment, and two cranes. Then the contractor crawled it off our property into the slough. Then, in the water, it would float. He had to push it by push boat -- a tiny tug -- all the way to Coyote Creek [north of Alviso]. It was so wide, 18 feet, that you couldn't get it on a public roadway.
Then, Coyote Creek has a fixed bridge -- you can't raise it. Mud Slough has a turnstile bridge that swings open. But the turnstile bridge was frozen. We had to get a winch -- large cables and a big pulley system -- and manually push it open and then close it so the railroads could use it.
It was a key time when we really needed to show success. The breach of the Island Ponds was the first physical change to the land. It felt so good to be a part of that, and see everyone be so excited, and celebrate that.
We all live work and play in the San Francisco Bay Area. It's our home, too. We want to enjoy the Bay.
How do you enjoy the Bay?
Being able to go out on a bike ride, go out to Coyote Hills, take a ride on Alameda Creek all the way to the Bay -- and I'm fortunate I get to get out to places for work purposes, places people don't even know exist. You wouldn't even know you were in the heart of 7 million people, with the solitude out there.
People at Cargill from other parts of the country, from rural areas, will ask me, how can you live in such a big urban area? It's pretty darn easy -- there's a huge amount of open space. You don't see it if you look straight ahead. But if you look to the side -- on one side, to the Bay, and the other side, to the hills.
I have been out there and reflected on how many people you get to work with on these ponds, how many people are interested in these issues, and yet how few people get to see it. I would challenge people, if you want to be a part of it, you've got to get out there. It's unique -- you don't get this everywhere.
How do you work with the Refuge today?
In the majority of our salt operations, they are our landlord. Of our 11,500 acres of salt operations, 8,000 acres is Refuge land, and has been since the '70s. They are a key stakeholder and also our partner. The buzzword these days is public-private partnerships. I laugh because we've been doing that for a long time.
In our relations with the Refuge, there were certainly bumps along the way. But it's interesting that you can have two different entities, with two different goals, operating on the same footprint, and do it in a way that's collaborative and supportive of each other. We have this open dialogue. We will not always agree, and that's okay, but we worked through the issues that could be a conflict.
We are operating in a very challenging place to run a business, on the edge of the San Francisco Bay area, with our landlord being Fish and Wildlife Service. It's very unique, and challenge at times, but it is manageable. It comes down to being able to sit down and have an open dialogue.