April 2012 Volume 27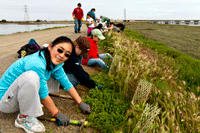 Upcoming
Events and Meetings
More events, including volunteer restoration opportunities, are listed on the Events and Meetings section of the project web site.

Levee Bike Tour
Don Edwards SF Bay NWR
Alviso Marina County Park, Alviso

Saturday, April 14
10:00 a.m. - 1:00 p.m.

Saturday, April 28
10:00 a.m. - 1:00 p.m.

Saturday, May 12
10:00 a.m. - 1:00 p.m.

Saturday, May 26
10:00 a.m. - 1:00 p.m.

Get a new perspective! Take a docent-led bicycle tour along the levees of the Don Edwards SF Bay Refuge. Learn about the Salt Pond Restoration Project and see Silicon Valley from a new angle. It's nature in the middle of it all! The trail is level and smooth, but unpaved, and it can be windy. The tour starts and ends at the Alviso Marina County Park. The pace is moderate with stops. Helmet and water recommended. Recommended for ages 14 and over.

Earth Day Cleanup
Don Edwards SF Bay NWR
Ravenswood Point, East Palo Alto

Saturday, April 21
9:00 a.m. - 12:00 p.m.

Help us protect wildlife and the environment while enjoying great Bay views! Join our Annual Earth Day Cleanup at Ravenswood Point in East Palo Alto. We'll supply latex gloves and trash bags. Wear sturdy shoes, a hat, and sunscreen. Prepare to get dirty and to have fun! Minors must be accompanied by an adult. RESERVATIONS ARE REQUIRED. Please register at www.savesfbay.org. Call 510-792-0222 x362 for more information.

Bird Migration Walk
Don Edwards SF Bay NWR
Ravenswood Unit (SF2,) Menlo Park

Saturday, April 28
9:00 a.m. - 10:30 a.m.

Saturday, May 12
9:00 a.m. - 10:30 a.m.

Our wetlands are an important stop on the Pacific Flyway, a major bird migration route. Stroll with docent Laurel Stell to learn why the birds migrate, why they stop along the San Francisco Bay, and to spot the birds in action. Trail is easy and level. All ages and abilities welcome. Meet at the SF2 trail parking area on the west side of the Dumbarton Bridge. For information and directions, please call 510-792-0222 ext. 139.

USGS Science Fair / Open House
Saturday and Sunday,
May 19th and 20th, 2012
345 Middlefield Road,
Menlo Park, California

Come out and learn what USGS is up to around the San Francisco Bay! Many exhibits and activity booths are planned as well as live music. To get an idea of the event, check out the 2009 Open House: http://openhouse.wr.usgs.gov/2012/index1.html
On the Ground

Eden Landing: Breaching and Design Work Progresses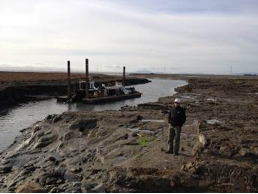 We celebrated the first breach at Eden Landing last September, as waters from Old Alameda Creek rushed into the former salt flats. Since then, workers completed additional breaches of Ponds E8A, E8X and E9, opening them to full tidal action at multiple points. In January, final work, including some dredging from the Pond E9 breach to the mouth of Mt. Eden Creek, was completed. We are seeing scour of the pond bottom begin to reestablish the historic channel networks. Salt marsh vegetation is expected to begin colonizing parts of the ponds this year. Nearby at Ponds E12 and E13, design work is expected to be completed this summer, with construction expected to occur in 2012-13, to construct a series of reconfigured managed ponds with different salinities. This project will provide foraging and roosting habitat for shorebirds and other waterbirds, which will help identify what water level and salinity range may be preferable for waterbird species in managed ponds as future restoration actions are planned and implemented.

Alviso: Significant Work Underway to Create Habitat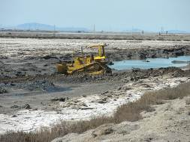 Work is underway to install new outlet control structures and dewatering of Pond A16 has also been initiated with several pumps moving water from A16 into A17 via the filled in gap which used to exist between A16 and A17.

Efforts are also underway to lower the southside A17 levee and use the removed material to construct a land bridge over the borrow ditch which will allow a long reach excavator onto the pond bottom of A16. Access to the pond bottom is necessary to allow construction of small islands which will provide increased habitat.


Ravenswood: Increased Public Involvement Underway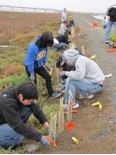 With the assistance of Save the Bay and the help of over 273 volunteers over the last 4 months, over 2,500 new native seedlings have been planted primarily along the bay front levee for SF2. Over the next few months, approximately 600 more native seedlings will likely be planted including Marsh Coyote Plant, Salt Grass, California Golden Rod, Sticky Monkey Flower, Seaside Arrowgrass, and Creeping Wild Rye. These native plants will provide critical support in the effort to combat invasive weeds from invading these transitional marsh-to-upland habitats.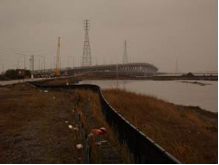 Meanwhile, the Dumbarton Bridge is currently undergoing a modern retrofitting that broke ground in 2009 and is targeted to be completed in 2013. The Don Edwards San Francisco Bay National Wildlife Refuge provides critical construction access on both marshlands road to the east, and also through the Ravenswood unit to the west.

Retrofit plans include strengthening the substructure by adding concrete bolster along pier footings, columns and bent caps of the main channel crossing and the two approach sections of the bridge. Construction designs also include large concrete piles along the trestle sections of the bridge. All of these design improvements should make the bridge ready to handle the next major earthquake and much safer, for the 64,000 daily users of this structure.


Changing of the Guard on South Bay Restoration Project Management Body

The Project Management Team (PMT) is the body that meets monthly to oversee the overall restoration project. Members include the California Department of Fish & Game (DFG), the U.S. Fish and Wildlife Service, the State Coastal Conservancy, and partner agencies including the Santa Clara Valley Water District, the Alameda County Flood Control and Water Conservation District, the U.S. Army Corps of Engineers and the National Oceanic and Atmospheric Administration.

The PMT has had a recent changing of the guard with one of the two DFG representatives and the Alameda County flood control representative.



First, Eric Larson of DFG will pass his PMT seat on to Greg Martinelli, who has been promoted to a new position at the Department's Bay Delta regional office as Environmental Program Manager for Wildlife. Having enjoyed his work with so many dedicated partners on the PMT, Eric now has the opportunity to focus more of his energies on fisheries as he becomes Environmental Program Manager for Fisheries and Interpretive Services. He will likely be involved with Salt Ponds well into the future, he said, with his fisheries duties. "I look forward to continued involvement from the fisheries perspective. Being involved in the restoration of the South Bay Salt Ponds has and will continue to be one of the high points in my career with DFG," he said.



Secondly, Ralph Johnson, who has represented Alameda County since the flood control district became a member of the PMT shortly after the Project's launch, is being replaced by Rohin Saleh, a supervising civil engineer at the Alameda County Public Works Agency. Rohin has a background in hydrology and hydraulic modeling, including large-scale drainage master plan studies and flood reduction planning, and has been with the District for more than 25 years. Ralph will transition to serve on the Project's Stakeholder Forum, to represent a flood protection perspective while allowing additional time for retirement and increased civic work, including serving as an elected representative on the board of the Castro Valley Sanitation District, and as chairman of the board of the Alameda County Library Foundation.

Ralph identifies two major highlights in his time on the PMT: accomplishing the Project restoration plan, and finishing the first piece of Project restoration at Eden Landing at ponds E8A, E8X and E9. At Eden Landing, the original plans to use state funding were dashed when California hit hard financial times and its bond funds were frozen. The Project was stuck with a completely designed construction plan, but lack of money. Then, like manna from heaven, the federal government suddenly came looking for shovel-ready projects to put people back to work. $3.5 million from federal ARRA funds through NOAA, coupled with funding from the State Coastal Conservancy and the Alameda County Flood Control District accomplished the job, with construction on the 630 acres completed last year.

Science Update

We built it, are they coming? Scientist watches to see if birds benefit from new Pond SF2 nesting islands
If you've driven eastbound on the Dumbarton Bridge from Menlo Park to Newark in San Francisco Bay, you might have seen a lonely white pickup truck with funky metal scaffolding built onto the back, parked along the right shoulder. And you probably also saw Stacy Moskal standing very still atop this makeshift mobile watchtower with her back to the road.

"I'm not sure if people know what I'm doing," Moskal said, laughing. "I think they just see this random girl standing on a truck platform, and everyone almost always honks their horns."

So what is she doing up there, catching a breeze? "I'm just doing some serious bird counting, actually."

Moskal, a biologist at the U.S. Geological Survey (USGS) Western Ecological Research Center and a master's student at San Jose State University, has been studying the waterbirds off Dumbarton Bridge since October 2010. Specifically, she's studying a very unique patch of water in the Project's Pond SF2, the 156-acre former industrial salt production pond, part of the US Fish and Wildlife Service's Don Edwards San Francisco Bay National Wildlife Refuge that was restored to a managed tidal pond in 2010.

It's a rock's skip away from Facebook's new headquarters in Menlo Park.

Designed into SF2 are 30 oddly shaped islands -- an aerial view of them on Google Maps reminds Moskal of Pac-Man in his maze. Project consultants designed the different island shapes to test which shape offers the most desirable habitats for the wintering and migrating bird populations that rely on South San Francisco Bay for food and rest.


It's been Moskal's project to study the wintering/migrating shorebird response to these islands: which islands are birds hanging out at; whether the birds are foraging or roosting; and if they are poking around in the low tide shallows or perched on the dry parts of the island. To do so, Moskal has gone out to observe and count birds at SF2 one day a week, twice a day at high tide and low tide. To date, she's counted more than 97,000 shorebirds.

The diversity is spectacular, including black-bellied plovers and dowitchers that fly in from the arctic, marbled godwits from southern Canada, and multitudes of western sandpipers.

The jury is still out on how actively the birds are using the islands, or whether they're just feeding in the flats during low tide. But Moskal will continue her work through May and finish out the winter and spring migration seasons.

So who built that crazy truck tower anyway?

"Oh,that was not as fun as it looks on TV," said Moskal, recalling a trip she took with a USGS intern to the hardware store. "We bought what we thought we needed... some 2x4s, plywood, carpet for a non-stick surface, and large U-bolts...stapled the carpet onto plywood... bolted the plywood to the 2x4s...."

"That's how I tricked my truck -- for science."

Faces of the Restoration: Linda Gass




Photo of Linda Gass
by Jay Bender. Artist Linda Gass of Los Altos paints and stitches elaborate landscapes on silk, creating what she calls "stitched paintings." The subject matter in her works includes rivers, man-made structures (such as oil tanks along the Bay), and several pieces on the salt ponds and tidal marshes along San Francisco Bay.
How did you begin focusing on water issues and the Bay?
I feel like the subject matter picked me rather than the other way around. I grew up in LA. My mother is from Luxembourg, a little country in Europe where it always rains. She tried to raise us with the superstitions of her childhood. So she would tell us, "If you don't finish your salad, it will rain tomorrow." Which was a real threat in Luxembourg, but not in LA -- it never rained. That got me wondering: how could everything be so green here, so lush and tropical, if it never rains?

It wasn't until I was an adult that I found out how LA gets its water. I found it very troubling. Being in LA in the 1970s, going through the drought, and knowing that was a problem, and something that happened to people in California. The issues just started coming out in my work. The focus of my work is really about water issues in California and the American West. I like places where I can do site visits. And with San Francisco Bay, it is very personal for me, it's very close. With the salt ponds, I was always fascinated, taking off from the airport, with the ponds: what are they, and why are they all these different colors?

I consider my artwork my clandestine way - I'm using beauty to make people look at the hard issues we face. My preference is to approach things by using beauty in a way to educate people.
On your website, you give a lot of background on the place that is represented in the art piece. Is that typical?
Yes. I give a lot of presentations about my artwork, in which I will show the site, tell the story, talk about my personal narrative and then show the artwork. I take people through my process, the research I do: topo maps, historical maps, historical aerial photos if I can find them, and satellite imagery, scientific papers, newspaper articles, site visits, which I synthesize into the artwork.
How do you integrate all of these different pictures from different points in time into your representation of the place?
In one piece, I painted the modern-day landscape, and the stitching is the historic channels, I overlaid the past over the present. Or sometimes, I'm going into the future: the piece "Wetlands Dream" is my imagined restoration of the whole Bair Island area.
How do you create your works?
First, I do the research. Then, to make the actual, physical piece, I stretch a piece of white silk, and I trace the design on to it. I start painting the silk with a liquid silk dye. In order to contain the dye, I use a water-soluble resist, which acts like a dam. It's a lot like watercolor painting -- there's no way to remove a dark color you don't like. I have to plan out my paintings, almost engineer them. Then, I steam the silk to set the dyes, and wash it to remove the resist. I make a sandwich with the silk, batting, and another piece of silk. I start stitching with my sewing machine, using the stitching to add another layer of design, color and texture. I use entirely labeled non-toxic materials - for example, a silk dye manufactured in Healdsburg. All the other silk dyes are toxic. Because my work is about environmental issues, I feel very committed.

Art is a powerful way to reach people about these things. Art is the ability to touch people emotionally. And I really like taking an interdisciplinary approach, the environment, the science, history and the art all come together to create something much bigger and more powerful than each individual piece.
When you're not creating art, how do you like to spend time on the Bay?
One of my favorite things to do is to take bike rides along the levees. I really like going out on the trails from Alviso - it feels like you're riding right out onto the Bay. I like seeing the birds. I've done a couple of baylands cleanups. The things we found once at Eden Landing blew my mind: a TV set, an Oreck vacuum cleaner, the number of Styrofoam cups, plastic utensils, lighters, teeny tiny Ziploc bags. It was this really interesting scavenger hunt.

For more information about Linda Gass's work, see www.lindagass.com. Her website includes information on spring exhibitions, including an exhibit she curated (which does not include her stitched works) on Santa Clara Valley water issues in Los Gatos through April 22; a Walking the Bay exhibit in April in San Francisco; and her May 5-6 open studio in Palo Alto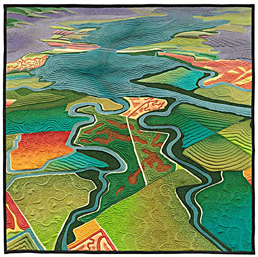 ""Fields of Salt" looks down at the Alviso ponds
- the Duck's Head Pond is visible in the middle.
By Linda Gass. Copyright 2007. Stitched Painting 30" x 30"
Photo by Don Tuttle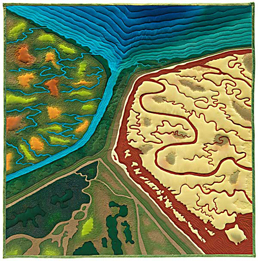 "Split Personality" reflects what you might see from the overlook at
Bedwell Bayfront Park in Menlo Park, looking toward Greco Island
and at Ravenswood pond. By Linda Gass. Copyright 2006.
Stitched Painting 30" x 30" Photo by Don Tuttle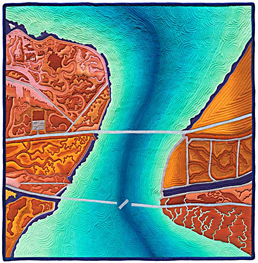 This work shows parts of the Ravenswood Ponds.
"Dumbarton Crossing" by Linda Gass. Copyright 2006.
Stitched Painting 30" x 30" Photo by Don Tuttle
Shoreline Study: Combined Flood and Restoration Alternatives to Be Presented Soon

In August 2011, members of the public had an opportunity to review a variety of approaches to providing flood risk management for the Alviso area, hear about ecosystem restoration approaches in the area, and provide their input and ideas to the Shoreline Study Team. The Shoreline Study is a partnership between the State Coastal Conservancy, the Santa Clara Valley Water District, and the US Army Corps of Engineers. The US Fish & Wildlife Service and other landowning agencies within the project area are also involved in the process.

This spring, Shoreline Study team is developing a final array of combined flood risk management/ecosystem restoration alternatives, which will be presented to the public for feedback later this spring at a meeting of the South Bay Salt Pond Project/Shoreline Study Alviso Working Group. A date for the meeting will be set and announced soon. A second public meeting is planned for early summer, to present the final plans' costs, economic and environmental benefits, and impacts. Based on these analyses, the study team will identify the plan that provides the highest net benefits and sets the basis for the federal cost share. Local decision makers (the non-federal partners and landowning agencies) will be selecting a plan for recommended implementation, which can either be the plan identified by the Corps process or a locally preferred plan. The Shoreline Study partners will be soliciting public input at this meeting prior to finalizing its selection.

The purpose of the Shoreline Study is to determine a balanced solution for flood risk management and ecosystem restoration in and adjacent to Alviso and to assess the possibility of securing federal funding for such actions. The Shoreline Study is being conducted in close coordination with the South Bay Salt Pond Restoration Project.