New Trail, Open Space & Enhanced Wildlife Habitat Coming to Union City and Hayward Area – Tell Us What You Think
Coming to Union City and Hayward-area baylands, with construction estimated to start in 2024:
A new 4-mile section of the San Francisco Bay Trail
New access for wildlife viewing, fishing, walking and biking
Tidal salt marsh restoration on 3,000 acres

Habitat for endangered species and other wildlife
Helps buffer the shore from high tides

Enhancements for shorebirds and waterfowl on 800 acres of ponds
Levee improvements so we don't increase flooding risk
We want to hear from you: Help us design this public open space, and help us understand how we can lessen construction impacts in your neighborhood.
We invite you to help us choose viewing sites!
Here is a slideshow of four candidate sites, with photos of views from each. Click on each site to see the views. Which viewing site is your favorite? Let us know in the survey that follows.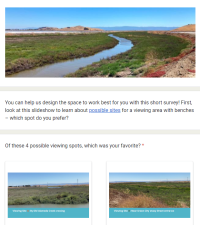 Please note the site – A, B, C, or D – and then take this survey
Project managers are reaching out to the community to dialogue with you not only about planned recreation, but also the upcoming work, possible construction impacts, ways we plan to minimize and avoid those impacts, and other possible steps we could take.
---