The Project
The South Bay Salt Pond Restoration Project is the largest tidal wetland restoration project on the West Coast. When complete, the project will restore 15,100 acres of industrial salt ponds to a rich mosaic of tidal wetlands and other habitats.
San Francisco Bay has lost an estimated 85 percent of its historic wetlands to fill or alteration. This dramatic decline in tidal marsh habitats has caused populations of marsh-dependent fish and wildlife to dwindle. It has also decreased water quality and increased local flood risks. Restoration of the South Bay salt ponds provides an opportunity to begin to reverse these trends, by improving the health of San Francisco Bay for years to come.
The goals of the Project are:
Restoration: Restore and enhance a mix of wetland habitats;
Recreation: Provide wildlife-oriented public access and recreation;
Protection: Provide for flood management in the South Bay.
Under the leadership of Senator Dianne Feinstein, the South Bay Salt Ponds were acquired in 2003 from Cargill Inc. Funds for the acquisition were provided by federal and state resource agencies and several private foundations. The 15,100-acre property transfer represents the largest single acquisition in a larger campaign to restore 40,000 acres of lost tidal wetlands to San Francisco Bay.
Since then, the Restoration Project has opened thousands of acres so nature can build new salt marsh, enhanced hundreds of acres of ponds to benefit bird life, and laid multiple miles of new trails. Learn more about our progress.
We are readying our second phase of construction. You are encouraged to participate as we plan, design and build:
Salt marsh restoration
Pond enhancement
Recreational trails and viewing sites
Flood risk and sea level rise protection
You can attend meetings, review plans, visit sites, and provide your thoughts and recommendations.
What Guides Us
Mission, Guiding Principles, Goals and Objectives
The Restoration Plan serves as a blueprint for habitat restoration, flood risk management, and the construction of new trails, viewing platforms and other public access along the Bay. The plan was adopted in 2008, after four years of work by a broad range of stakeholders, agency representatives, scientists, and members of the public.
Restoration
The Project is providing critical new habitat for fish, birds and other wildlife, transforming a landscape the size of Manhattan into a thriving wetland ecosystem.
Tidal marsh
Salt marsh, mud flats and sloughs provide shelter for endangered wildlife such as the salt marsh harvest mouse and Ridgway's rail; rich feeding grounds for shorebirds; and nursery areas for young fish such as leopard sharks and steelhead.
The Restoration Plan calls for turning at least 50%, and potentially as much as 90%, of the Project's 15,100 acres into tidal marsh over the next few decades. Managers won't restore more than about 50% of the acreage unless it can be done without significant impacts to birds that depend upon the existing salt ponds.
Bird ponds
The Bay Area serves as a critical stop along the Pacific Flyway for migratory birds. Ponds are carefully managed to provide for the appropriate feeding, resting and nesting needs of various shorebirds and waterfowl, both resident and migratory, including the threatened western snowy plover, which nests on dry pond bottoms.
The Restoration Plan calls for reconfiguring and intensively managing 1,600 acres of ponds for improved bird foraging, roosting and nesting.
Island Toppings for Nesting Birds
| Before: | Reworking the Surface: |
| --- | --- |
| Island toppings: kite aerial by Cris Benton | Mud and mud machine by Judy Irving |
Recreation
The Project is opening up new areas of the South Bay shoreline to millions of local residents and visitors. Wildlife-compatible public access projects completed and planned include:
New trails, including Bay Trail segments and spurs;
Viewing platforms at vista points;
Interpretive stations;
Access to cultural resources such as historic salt-making sites;
Access to waterways and the San Francisco Bay Water Trail, including a launch for nonmotorized boats; and
Access to fishing and waterfowl hunting.
To learn more about visiting, see Visiting the Pond Complexes.
Protection
We manage the Restoration Project with a careful eye to the potential dangers of flooding from tides, storms and sea level rise.
Flood Risk Management:
A key element of the Restoration Project is to ensure that flood hazards to adjacent communities and infrastructure do not increase as a result of restoration. The Restoration Plan, once fully implemented, would provide a cohesive line of inboard levees along the shoreline, or other ways of managing for flood risk to communities inland of the Project. Options may include raising levees, adding fill, or constructing new levees.
Wetlands restoration, in some cases, will be postponed until new levees or other flood risk management projects are built. Plans are moving forward for n Alviso-area flood project: a levee on the San Jose Bayfront, including Alviso, as part of the South San Francisco Bay Shoreline Project. See http://www.southbayshoreline.org/.
Sea Level Rise:
In Phase 2 construction, expected to begin in 2018, habitat work will include using fill to build higher-ground areas in wetlands and ponds that wildlife can escape to during floods, high tides and in the face of sea level rise.
Phase 2 work will focus largely on restoring salt marsh, because our modeling to date indicates that speeding the restoration of wetlands could enable those newly restored areas to help protect against sea level rise. How our wetland restoration work will help buffer sea level rise.
Science & Adaptive Management: Learning from Experience

The goal of the Science Program is to bring the best and most relevant science to decision-makers and the public in a timely fashion. The Science Program provides the Project with a scientific basis for adaptive management decisions and assists with the development of restoration targets and measuring Project success.
Learn more about what we do to advance science...
About Adaptive Management
Given the complexity of the natural and social world, it's not always clear what the best ways are to manage ponds, quickly build healthy and resilient wetlands, buffer sea level rise, and balance the needs of wildlife and humans – there are a number of significant uncertainties and knowledge gaps.
But we can't afford to wait until information is perfect before acting. That's why the Restoration Project uses "Adaptive Management" to guide its work.
Adaptive Management means continuous learning, treating our actions as scientific experiments, and changing what we do based on the lessons that we have learned.
The diagram below shows how adaptive management occurs: after planning and undertaking actions, scientists and managers evaluate the effectiveness and impact of those actions. Insights from the evaluation and analysis may lead to defining the problem differently or altering goals, targets, models or future actions.
STEPS OF ADAPTIVE MANAGEMENT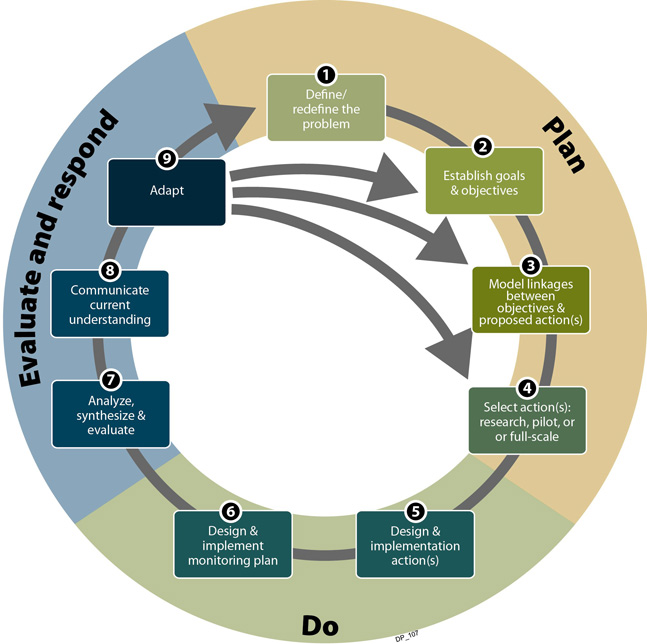 Adaptive management will play a crucial part in the Restoration Project's decisions to transform its acreage from salt ponds to salt marsh, to ensure that pond bird species are given sufficient habitat.
For more information:
Collaboration with Partners, Stakeholders, and the Public
We take a collaborative approach to working internally, as well as externally with partners, stakeholder constituencies, and the general public.
Federal, state and local agencies run the Project cooperatively, seeking consensus on significant actions.
The Project works with other interested organizations, partners and the public to carry out the restoration and complementary efforts.
We collaborate with the public:  

We held more than 40 meetings, workshops and charrettes involving many local officials, scientists, stakeholders and members of the public to craft the long-term Restoration Plan.
The Project Stakeholder Forum, representing about 25 interested local government, environmental, business and other interests, meets each year to review and provide input to Project managers.

We hear from independent scientific perspectives: a National Science Panel helped frame our science program; and our Technical Advisory Committee of independent scientists meets at key project junctures to offer advice and insights to future work.