Phase 2 Construction Underway - Alviso
Construction and Truck Traffic at Alviso Marina and Mountain View Shoreline Park
Construction and trucks are impacting trails near the community of Alviso and in Mountain View.
Alviso Marina: Workers are building a flood-protection levee in the Bay along San Jose as part of the South San Francisco Bay Shoreline Project, impacting Alviso-area trails, including the Mallard and Alviso Slough trails. The Shoreline Project is a partner effort of the South Bay Salt Pond Restoration Project. The 4-mile-long levee is designed to protect San Jose and environs from rising seas and a 100-year coastal storm. Work is Monday through Friday, 7 a.m. to 5:30 p.m. except holidays. There will be no public access to trail users across the Pond A12, A13 and A16 levees within the construction work area. See Valley Water's webpage for more information.
Mountain View: We are trucking in dirt to build new wildlife habitat at our Mountain View ponds. Trucks traverse Mountain View Shoreline Park and cross the nearby Bay Trail, carrying dirt to the Don Edwards San Francisco Bay National Wildlife Refuge's nearby Pond A2W. Public trails will remain open to the walkers and bikers, but may close briefly to allow for a crossing truck.
Trucks travel on either Amphitheatre Parkway or North Shoreline Boulevard, onto Crittenden Lane, and then through Shoreline Park on park maintenance levee-top roads.Traffic takes place between 7:30 A.M. and 4 P.M. weekdays, intermittently through 2022. The work will include building wildlife habitat slopes and islands and improving levees at the U.S. Fish and Wildlife Service's Refuge.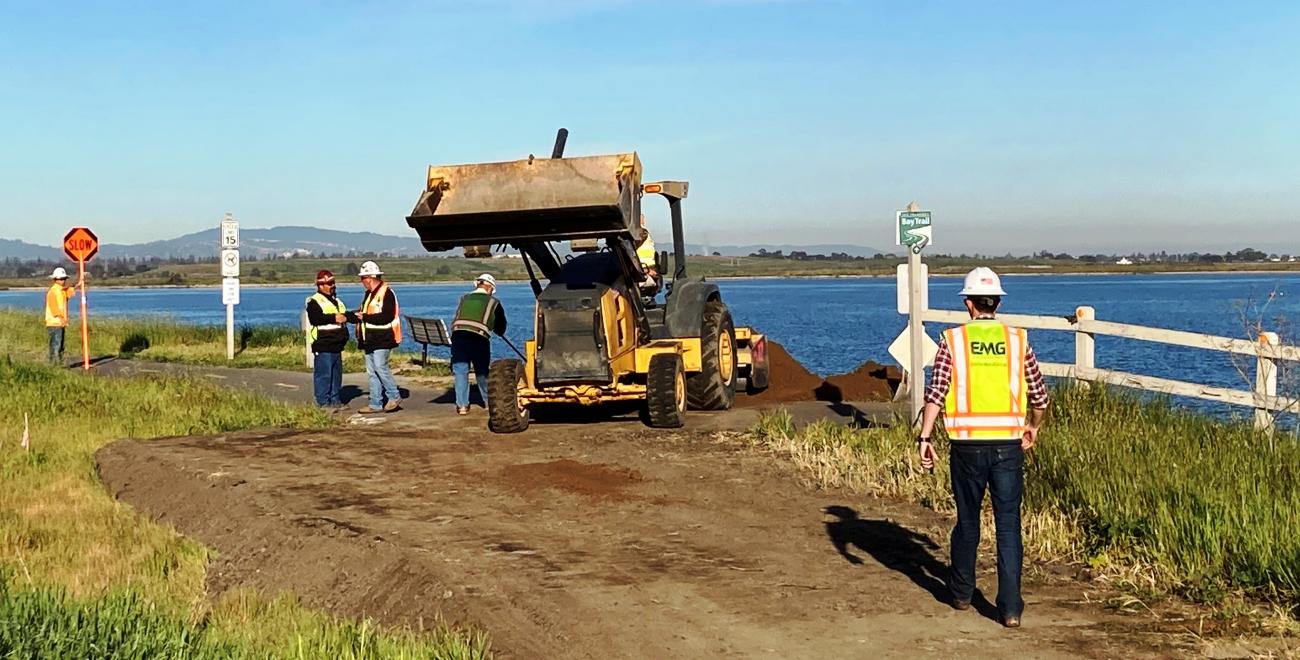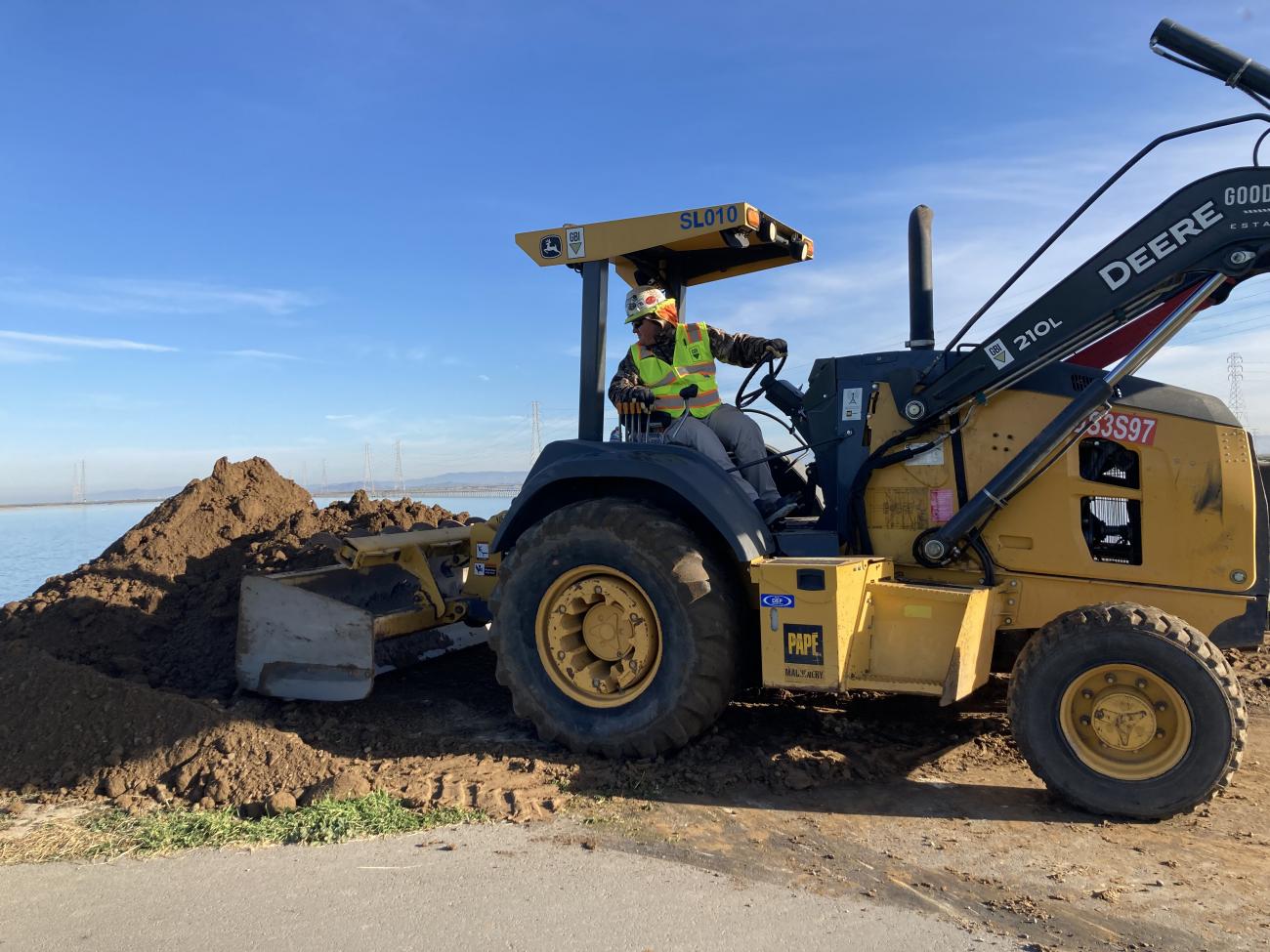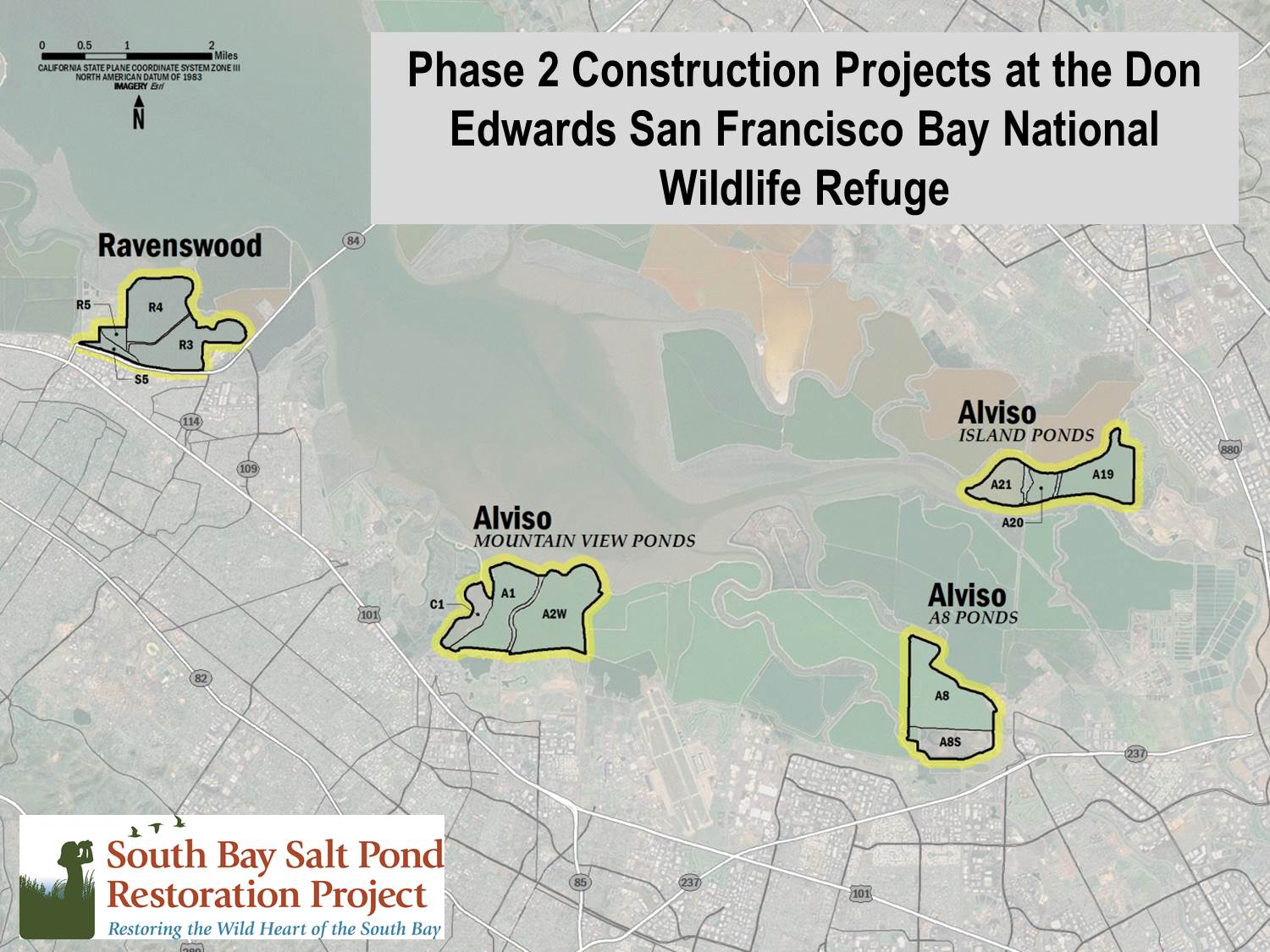 Island Ponds
Machines and crews were hard at work this winter tearing down levees and clearing vegetation on Island Pond A19 so Bay tides can enter and speed salt marsh growth there and at nearby Pond A20. Biologists cleared the salt marsh vegetation in case any listed wildlife were harboring there.
We first opened the Island Ponds to Bay tides in 2006 and that work has enticed endangered salt marsh harvest mice and Ridgway's rails to the most vegetated of the islands, Pond A21. The construction in December and January, now complete, will increase tides into the other two ponds so that Bay waters will bring in more sediment and plant growth.
Find out more in Dave Halsing's December 2nd blog.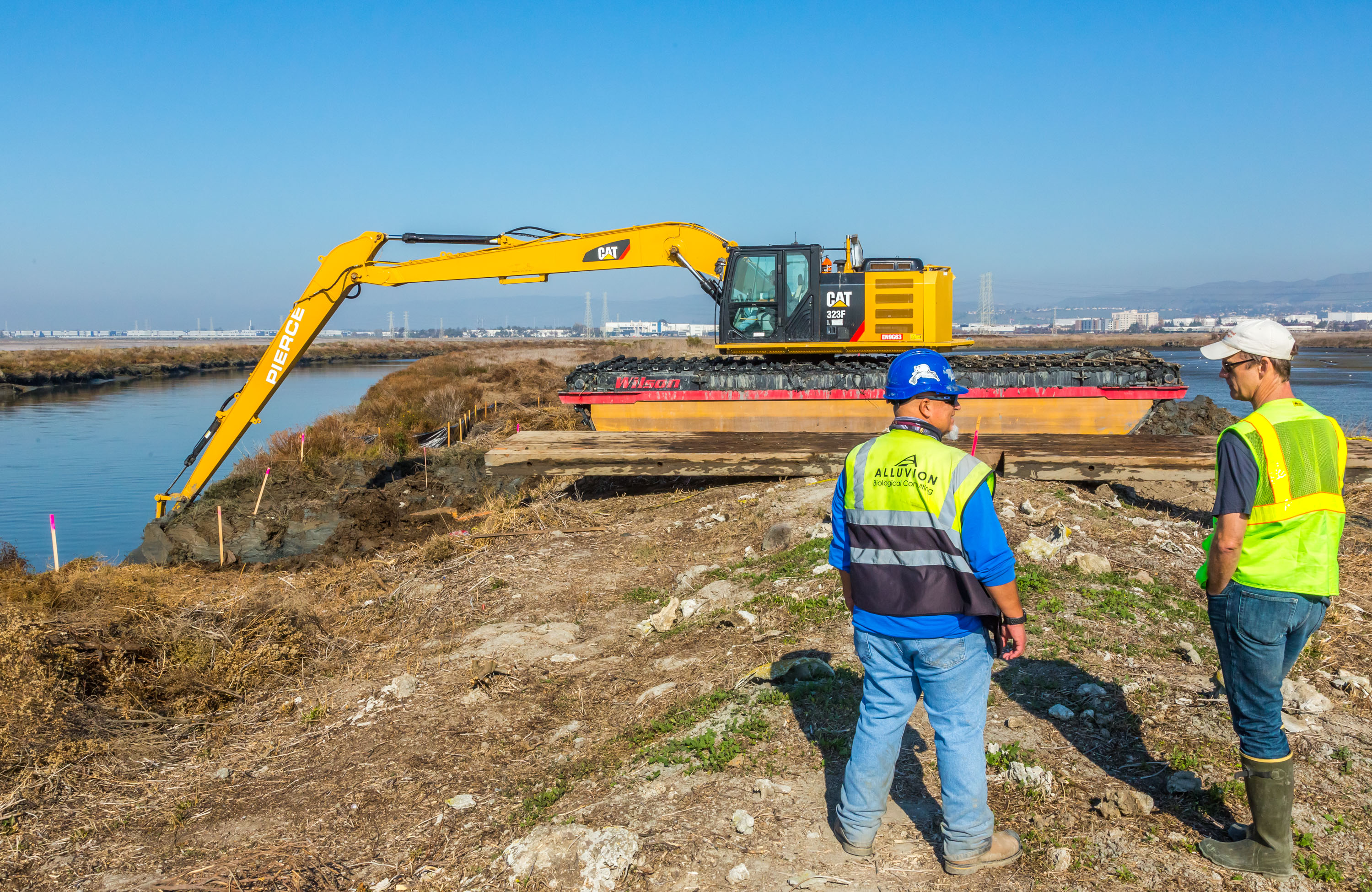 Phase 2 Construction Underway - Ravenswood
Construction crews have installed huge culverts to create water control structures and shored up levees, helping to prepare the way for duck and shorebird ponds. Partnering non-profit Save The Bay is nurturing newly planted vegetation on our new habitat slopes - read about it here. Contractors are completing handrails and other final items, and we are preparing to breach Pond R4, likely in the winter. The completed 294-acre project will feature not only the bird ponds but also new trails, a viewing platform, new tidal marsh along the Bay, nesting islands and habitat slopes for wildlife.
Photo gallery of this year's work: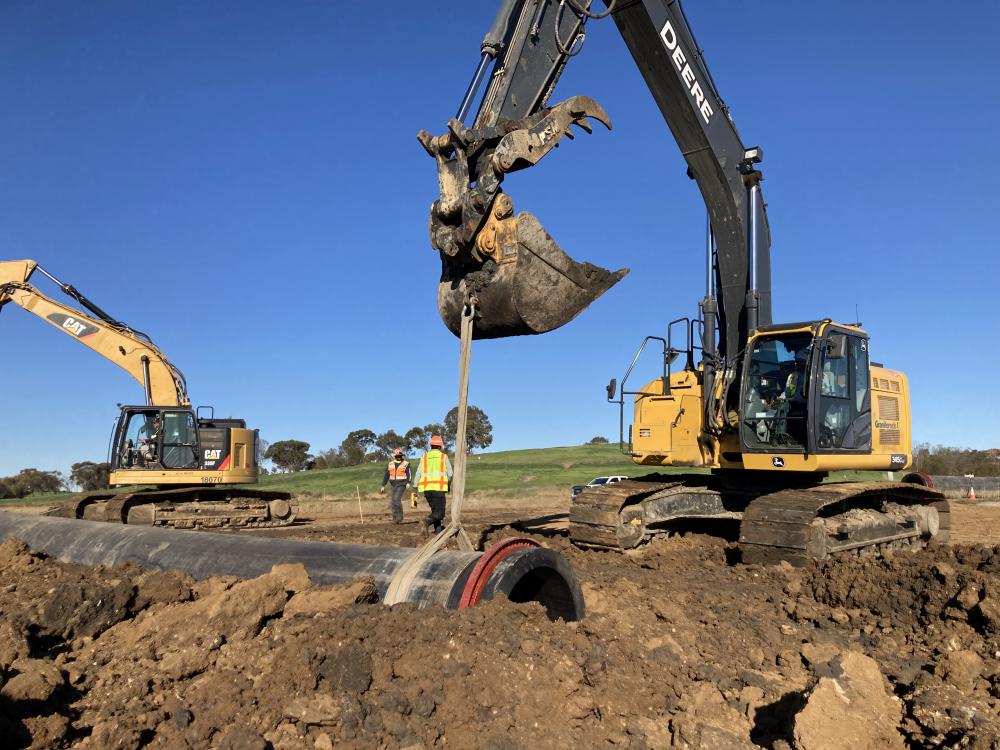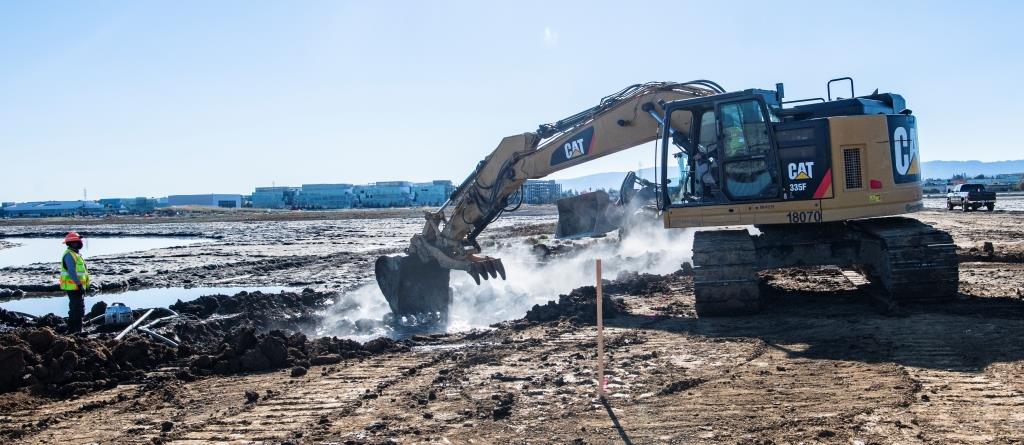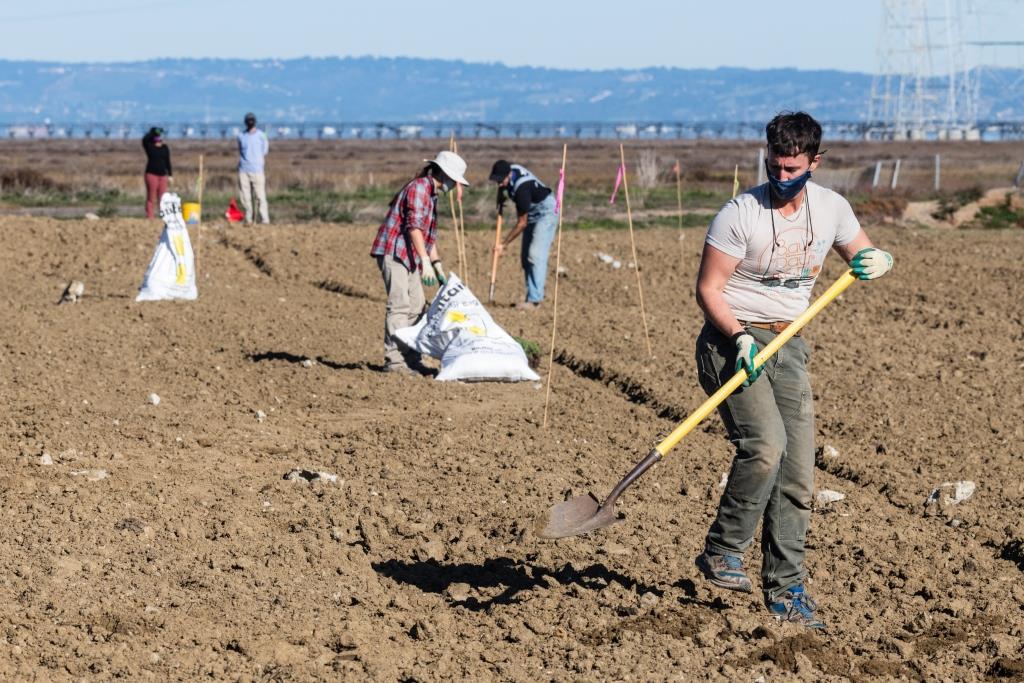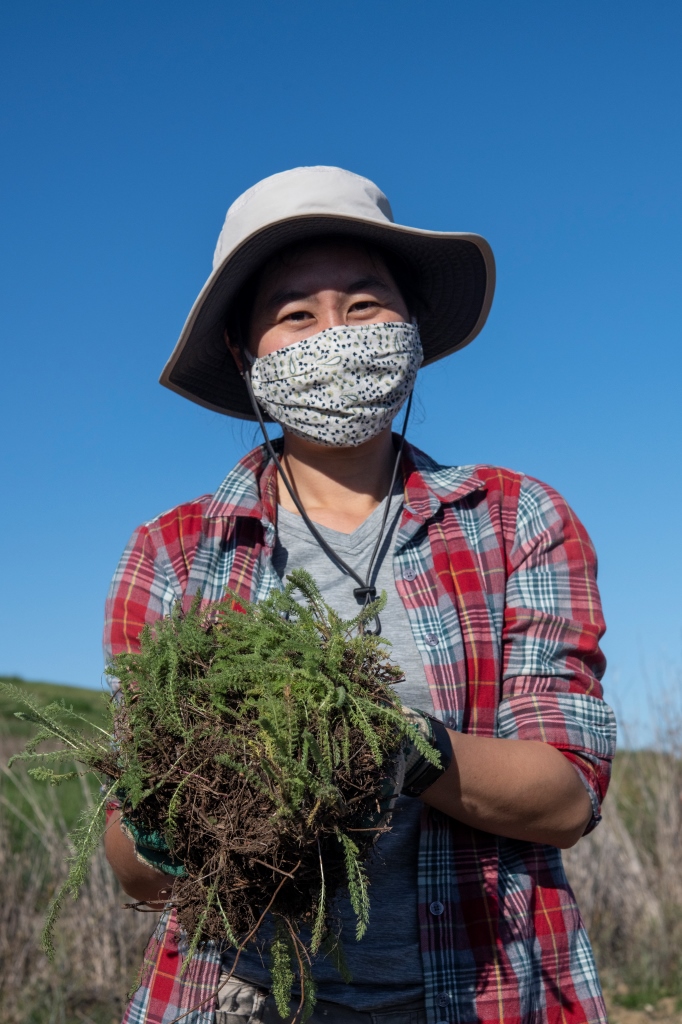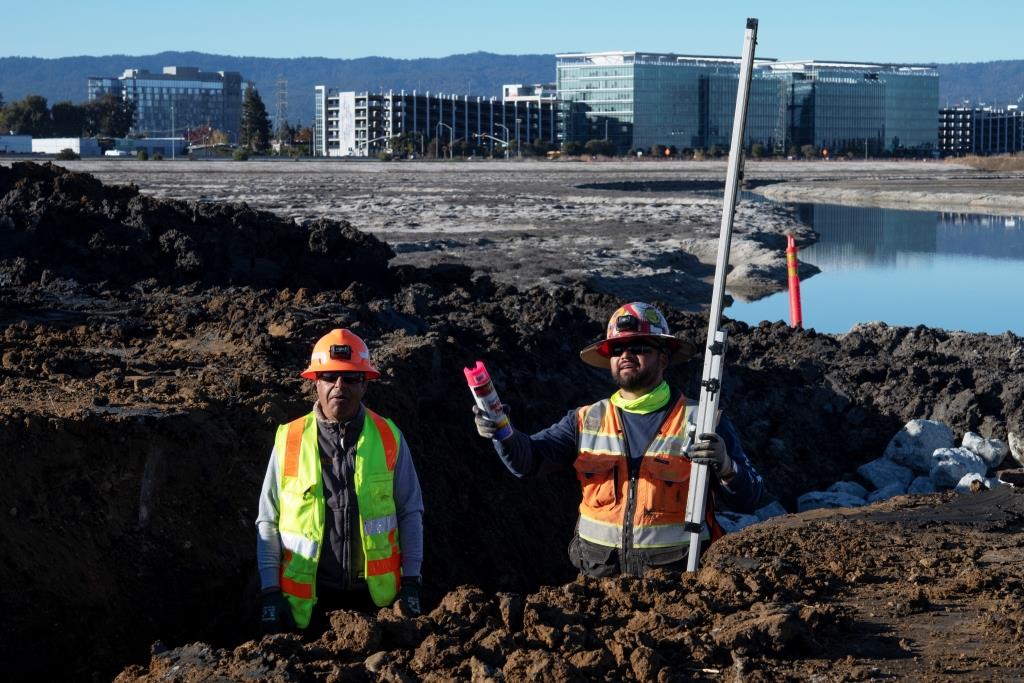 More information on current work:
More Information about the Ravenswood Ponds Construction
New Trail & Wildlife Habitat
 
ABOUT THE PROJECT
The Don Edwards San Francisco Bay National Wildlife Refuge in July 2018 launched levee maintenance and habitat enhancement at the Refuge's Ravenswood Ponds, on lands directly south of the City of Menlo Park's Bedwell Bayfront Park. To shore up and repair pond levees, trucks imported large quantities of soil. Soil imports continued in 2020 to prepare for construction of a new public trail and slopes for wildlife, part of the South Bay Salt Pond Restoration Project's Phase 2 projects. Trucks need to drive through the Park entrance and alongside part of a San Francisco Bay Trail/Park perimeter trail that loops around the edge of the Park to reach Refuge lands. They need to use the Park's front parking area. To protect public safety, the impacted Park areas and trail segments are closed when trucks are present. A flagger, barriers or fences block access to those areas. When work is occurring, affected trail segments are generally open for public use on weekends, and on weekdays after 5 p.m. When work is not occurring, trails are open.
Please follow all trail closure signage and fencing. The closures are for your safety while heavy trucks are operating.
Project Benefits
294 acres of new tidal marsh
37 acres of ponds improved for ducks and shorebirds
A new trail and viewing platform between Bayfront Expressway and the southern edge of Bedwell Bayfront Park
Improved All-American Canal levee to protect the pond bordering the Facebook campus
Further information about this project is available below.
Contacts
Main contact:
Matt Brown
Refuge Manager
[email protected]
510-792-0222, Extension 125
Truck-related matters:
Bryan Evans
Operations Manager, Pacific States Environmental Contractors, Inc.
[email protected]
925-570-1778
| Status: | Location: | Schedule: |
| --- | --- | --- |
| Active | Ravenswood | Start in 2018, Finish in 2022 |
|   |   |   |
News & Updates 
Note: This information based on construction activity is current as of April 2, 2020. As new information becomes available, we will provide additional updates.
Workers have completed a parallel track for trucks that has removed truck traffic from most parts of the San Francisco Bay Trail in the City of Menlo Park's Bedwell Bayfront Park.
Soil hauling began in July 2018 to shore up shorebird pond levees. In Fall 2018, trucks began bringing in soil for South Bay Salt Pond Restoration Project Phase 2 projects, including a new slope to help wildlife escape high tides, and a new public trail. That work continues.
Specific continuing construction impacts to the Park include:
Park Entrance: Trucks travel through the Park entrance. However, the entrance remains open to public vehicles through the construction activities. The pedestrian/bicycle trail entrance has been shifted to the south. Work areas will be separated from public users by fences, signs and/or barriers, and flaggers are present near the park entrance when trucks are active.
Parking: The Park's front parking area is closed off, but other Park parking will continue to be available further up Marsh Road.
Trails: Aside from the 1/4-mile San Francisco Bay Trail segment along the Park's southwest corner, the rest of the Park's extensive trail network will not be impacted. Trails sections impacted by trucks will be open for use after 5 p.m. and on weekends and holidays.
Truck traffic: There is increased truck traffic exiting Highway 1 at Marsh Road, and at the vehicle entrance/exit area of Bedwell Bayfront Park.
What to Expect During Construction
The Refuge and the Restoration Project are working to minimize traffic and trail access impacts. We appreciate your understanding and cooperation as we prepare for habitat and trail construction.
When do trucks operate?
Work is limited to Monday through Friday during the day. No weekend work is allowed. Trails will be open during the work hours when trucks are not present.
How long will the overall project last?
From 2018 to 2022. Construction of the restoration project elements within the ponds continues through 2020, and is expected to continue into 2022.  
Traffic Impacts: What are expected traffic impacts?
Trucks exit Highway 101 directly along Marsh Road. There is increased traffic at the vehicle entrance/exit area of Bedwell Bayfront Park when trucks are present. 
Park Impacts: Which roads, parking areas, trails and trail access points may be impacted?
Trucks exit Highway 101 at Marsh Road and use Marsh Road to enter Bedwell Bayfront Park. They then drive along the area now devoted to the Park's front parking area, and turn right onto a new dirt roadway parallel on the outside of the Bay Trail/Park perimeter trail, traversing along the west side of the Park to Refuge lands. In order to protect pedestrians and bicyclists, a new pedestrian/bicycle entrance, to the south of the existing entrance, was established [indicated in blue on the map]. The park access trail closest to Marsh Road is closed to pedestrians and cyclists, as is the Marsh Road crossing area.
Updated maps will be provided showing the current portions of trails that are closed or impacted by construction. The primary work season is expected to extend from May to October. 
Will there be signs and people on hand to help?
The soil hauling company Pacific States has certified traffic controllers who are on site with flags when trucks are active. Flaggers are stationed at the pedestrian crossing area at the entrance to the park (as indicated on the map). Signs indicating trail closures are located at the entrance to the park and at intersections of the Bay Trail/Park perimeter trail and park trails.  
How can members of the public access the City's free compost pile at the entrance to Bedwell Bayfront Park?
Trucks may hinder the public's ability to drive up and collect compost from the pile during weekday work hours. The compost pile would always be available on weekends and during the week before 8 AM and after 5 PM. 
Background & History
ENVIRONMENTAL & COMMUNITY BENEFITS
The levee maintenance and habitat enhancement work provides a variety of environmental and community benefits including:
Enhanced and restored habitat for endangered and native wildlife 
New recreational trail and viewing area
Initial Construction Work
Work in spring 2018 was levee maintenance focused on shoring up levees. The mission of Don Edwards San Francisco Bay National Wildlife Refuge is to manage its acreage to conserve fish, wildlife, and plants. The Refuge contains many levees that are battered by winds and tides. The Refuge keeps these levees in good condition by adding new soil, so they can continue to protect the integrity of the ponds that are important foraging and breeding habitat for many waterbirds.
South Bay Salt Pond Restoration Project Phase 2 Ravenswood Construction
Work began in fall 2018 and continues on South Bay Salt Pond Restoration Project's Phase 2 plans for Ravenswood.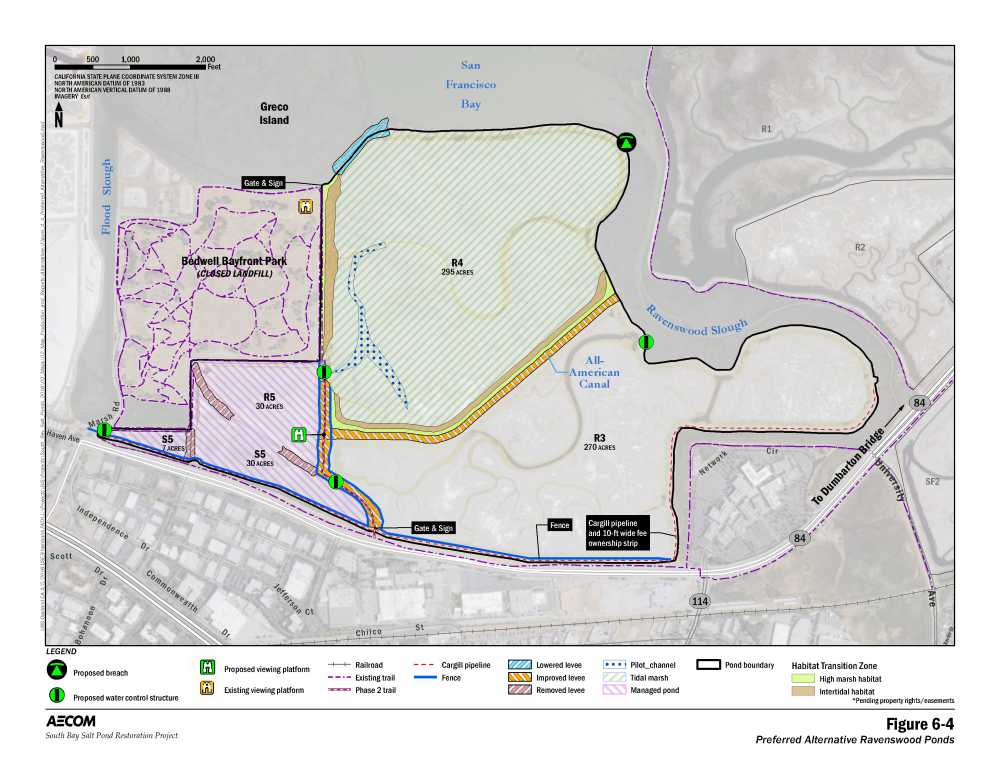 What the Phase 2 construction at Ravenswood will accomplish:
HABITAT RESTORATION:
Create 294 acres of tidal marsh south of Bedwell Bayfront Park. The new habitat will feature 8 acres of new upland areas along the Park and the All-American Canal levee so wildlife can escape storms, high tides and sea level rise. The work at Pond R4 will be accomplished by breaching the levee between the pond and San Francisco Bay to let in Bay tides. Work includes improving the All-American Canal levee to protect 270 acres to the west, Pond R3. This pond borders the north and east sides of the Facebook campus. It will be kept as dry salt flat for threatened western snowy plovers to nest.
HABITAT ENHANCEMENT:
Transform 37 acres of ponds between the Bayfront Expressway and Bedwell Bayfront Park into shallow water habitat for ducks and shorebirds.
TRAIL AND VIEWING PLATFORM:
A new trail will run from the Bay Trail on Bayfront Expressway south of Chilco Street through ponds to reconnect with the Bay Trail at the southern edge of Bedwell Bayfront Park, creating a loop around Ponds R5/S5. A new viewing platform midway along the trail will offer views of three different types of bird habitat, the duck ponds, newly developing wetlands and dry nesting habitat for the threatened western snowy plover.
Eden Landing Planning
Eden Landing Phase 2 Final Environmental Impact Report 
The final document, released April 5, 2019, describes the preferred plan for tidal marsh restoration, wildlife habitat improvements, new trails and flood protection on 2,270 acres of ponds near Union City. It analyzes environmental impacts of alternative plans for the area covering about half of the California Department of Fish and Wildlife's Eden Landing Ecological Reserve. This final report also includes responses to public and stakeholder comments received on the Spring 2018 draft report.
Information on the alternatives:
See below under Other Phase 2 Documents for the Notice of Preparation and other Eden Landing-related documents released to date.
Alviso/Ravenswood Planning
The final environmental analysis document details Phase 2 plans for 2,400 acres of ponds in the Alviso area near San Jose and Mountain View, and the Ravenswood area near East Palo Alto/Menlo Park.
To Download: You can download all or part of the final Environmental Impact Statement/Report here.
To View a Hard Copy of the Final Alviso/Ravenswood EIS/R:
Other Phase 2 Documents
These handouts summarize key actions under consideration:
These handouts summarize key actions under consideration:
You can give us your thoughts and ideas through our comment form.